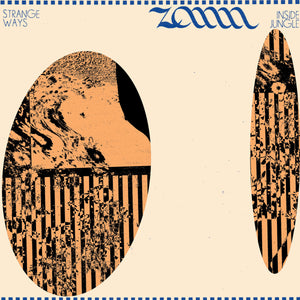 | | |
| --- | --- |
| Format | LP |
| Label | Isle Of Jura |
| Catalogue Number | ISLELP005 |
 
The next official reissue is the sought after LP from Zann originally released as a private press in 1990. 'Strange Ways / Inside Jungle' has become something of a leftfield holy grail in recent years with copies changing hands for upwards of 150 Euros. The LP has middle Eastern instrumentation at its core particularly wind & string instruments such the Tabla and Gong, but is a melting pot of influences incorporating elements of Ambient, Jazz & Krautrock with strong synth programming on a number of tracks.

Zann started life as a 7-member live band in 1982. Founder member Udo Winkler had been a part of New Wave & Post Punk band Konec touring extensively and releasing one LP on Polydor titled 'Schrille Blitze'. Zann was an outlet for more experimental works heavily influenced by Brian Eno's collaborations with David Byrne and Jon Hassell, German bands like Embryo and Dissidenten, David Sylvian and middle & far eastern music.

In 1988 Udo and Hjalmer Karthaus built a small basement studio with a 4 track tape machine and musical experiments began in earnest. After the limitations of playing live it was an acoustic wonderland and they gave themselves no musical boundaries. The unlimited studio time meant they could pick up ideas and develop pieces gradually, friends would come to the studio to play and songs evolved from extensive jamming sessions. Upon completion of the LP in 1990 the band pressed up a handful of copies and sold them exclusively at record fairs in Germany.

The LP has been fully remastered from the original DAT tapes with new full sleeve artwork from Bradley Pinkerton and is pressed on 180 Gram Vinyl.
Tracklist:
1. Tatopani 
2. Caravan
3. Song For Lu Wang
4. Tibetan Bread 
5. Kin Hin 
6. Gaya's Gone 
7. Sevda Yolu 
8. Aum