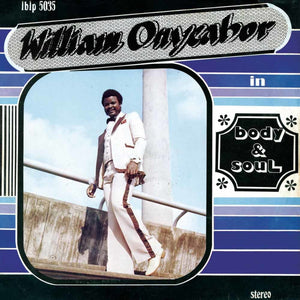 | | |
| --- | --- |
| Format | LP |
| Label | Luaka Bop |
| Catalogue Number | LB5035LP |
Luaka Bop re-issues each of William Onyeabor's Albums. Available for the first time as individual vinyl LPs.

"William Onyeabor was born outside Enugu, a small, rural town in Eastern Nigeria, he created his own genre of African electronic funk in the late 70s and early 80s, making music completely unique for his time. Today, he is reaching cult status among a growing list of admirers, including everyone from Damon Albarn and Hot Chip to Carl Craig and Madlib, with some likening him to the Kraftwerk of West Africa, or a precursor to LCD Soundsystem.

Among the crate-digging few that knew of him, he is considered a complete myth. While he has never performed live and almost never given interviews, his fantastical biography is scattered and has to this day not been verified. And, though he is still alive, he refuses to speak about anything regarding the past.

According to various rumors, he left home following the Biafran War and went to study cinematography in the Soviet Union, returning in the mid-70s to start his own film company and record label, Wilfilms. He then self-released eight remarkable records from 1978-1985. He wrote and produced everything on his own, and possibly played every instrument himself. Then, at some point of his life, he became born again and denounced his earlier music, deciding it is something he would never speak about."
Tracklist:
1. The Way To Win Your Love 
2. Poor Boy 
3. Body & Soul 
4. I Believe In God