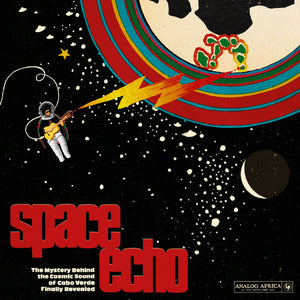 | | |
| --- | --- |
| Release Date  | 06/10/2023 |
| Format | 2LP |
| Label | ANALOG AFRICA |
| Cat No. | AALP080 |
 
In the spring of 1968 a cargo ship was preparing to leave the port of Baltimore with an important shipment of musical instruments. Its final destination was Rio De Janeiro, where the EMSE Exhibition (Exposição Mundial Do Son Eletrônico) was going to be held. The ship with the goods set sail on the 20th of March on a calm morning and mysteriously disappeared from the radar on the very same day.

One can only imagine the surprise of the villagers of Cachaço, on the Sao Nicolau island of Cabo Verde, when a few months later they woke up and found a ship stranded in their fields, in the middle of nowhere, 8 km from any coastline. 

After consulting with the village elders, the locals had decided to open the containers to see what was inside - however gossip as scintillating as this travels fast and colonial police had already arrived and secured the area. 

What the villagers didn't know, was that traces of cosmic particles were discovered on the boat. The bow of the ship showed traces of extreme heat, very similar to traces found on meteors, suggesting that the ship had penetrated the hemisphere at high speed. That theory also didn't make sense as such an impact would have reduced the ship to dust. Mystery permeated the event.

The atmosphere, which had been filled with joy and excitement, quickly gave way to astonishment. Hundreds of boxes conjured, all containing keyboards and other instruments which they had never seen before: and all useless in an area devoid of electricity. Disappointment was palpable. The goods were temporarily stored in the local church and the women of the village had insisted a solution be found before Sunday mass. 

It is said that charismatic anti-colonial leader Amílcar Cabral had ordered for the instruments to be distributed equally in places that had access to electricity, which placed them mainly in schools. This in turn facilitated the modernisation of local rhythms such as Mornas, Coladeras and the highly danceable music style called Funaná, which had been banned by the Portuguese colonial rulers until 1975 due to its sensuality!

The observation was made that the children who came into contact with the instruments found on the ship inherited prodigious capabilities to understand music and learn instruments. One of them was the musical genius Paulino Vieira, who by the end of the 70s would become the country´s most important music arranger. 8 out of the 15 songs presented in this compilation had been recorded with the backing of the band Voz de Cabo Verde, led by Paulino Vieira, the mastermind behind the creation and promulgation of what is known today as "The Cosmic Sound of Cabo Verde".

Tracklist:
1. Pinta Manta - Antonio Sanches
2. Dia Ja Manche - Dionisio Maio
3. Morti Sta Bidjacu - Jose Casimiro
4. Pontin & Pontin - Bana
5. That Day - Fany Havest
6. Odio Sem Valor - Pedrinho
7. Mino Di Mama - Quirino Do Canto
8. Mundo D'Margura - Tchiss Lopes
9. Po D'terra - Joao Cirilo
10. Corre Riba, Corre Baxo - Abel Lima
11. Ilyne - Os Apolos
12. Sintado Na Pracinha - Americo Brito
13. Capchona - Elisio Vieira
14. Djal Bai Si Camin - Antonio Dos Santos
15. Stebo Cu Anabela - Abel Lima