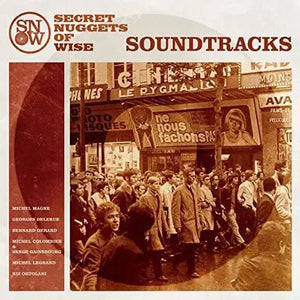 | | |
| --- | --- |
| Release Date | 20/10/2023 |
| Format | LP |
| Label | Le Chant du Monde |
| Catalogue Number | CM743163 |
Le Chant du Monde are proud to present the third production of their new 'SNOW' collection, simply titled 'Secret Nuggets Of Wise Soundtracks'.
This collection will quickly be enriched with several other titles to become a collection of essential references that will have its place in all good discos.
All titles have been specially remastered for a vinyl edition.
The thick cardboard tip-on cover will delight all fans of authentic vintage record covers.
Bringing together the great classics of soundtrack movies, but also some rare pearls - the hallmark of this collection.
Tracklist

Michel Magne - Danse des Flammes
Michel Magne - Danse de l'Impatience
Georges Delerue - La Mort de Belle
Bernard Gérard - La Grande Sauterelle
Bernard Gérard - Ne Nous Fâchons Pas
Bernard Gérard - Rosbif Attack
Bernard Gérard - Les Adieux Du Colonel
Bernard Gérard feat. Graeme Allwright - Akou
Michel Colombier & Serge Gainsbourg - Scène De Bal 1
Michel Colombier & Serge Gainsbourg - Scène De Bal 2
Michel Legrand - Nice Baie des Anges
Michel Legrand - L'Amour Et Le Jeu
Riz Ortolani - Free Way
Riz Ortolani - Il Purgatorio
Riz Ortolani - Hong Kong
Cha Cha Cha Colazione Al Colony
Michel Magne - Berceuse du Kiosque à Musique
Michel Magne - Recherche dans Paris