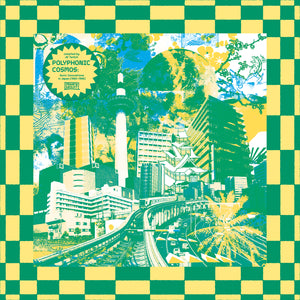 | | |
| --- | --- |
| Release Date | 25/11/2022 |
| Format | 2LP |
| Label | Cease and Desist |
| Catalogue Number | C&D002 |

Ever since he made his first trip to Japan to DJ, Optimo Music founder JD Twitch has been bewitched by Japanese music, and particularly the vibrant, imaginative, and often far-sighted sounds which emerged from the island nation during the 1980s. Now he's put years of digging in Japanese record shops to good use on Polyphonic Cosmos, the latest release on his compilation-focused Cease & Desist imprint.

Subtitled 'A Beginners Guide to Japan In The '80s', the collection offers a personal selection of Japanese gems recorded and released between 1981 and '86 – a period when advances in recording and musical technology offered the nation's artists and producers a whole new tool kit to employ. When combined with the unique musical culture of Japan, where local traditions are frequently fused with Western styles to create timeless, off-kilter aural fusions, this embrace of locally pioneered music technology had spectacular, often unusual results.

Eight years in the making, Polyphonic Cosmos provides an endlessly entertaining musical snapshot of Japanese music of the early-to-mid '80s with all of the open-minded eclecticism and sonic twists that you would expect from the Glasgow-based DJ.

Compare and contrast, for example, the gently breezy, morning-fresh folk-plus-electronics bliss of 'ばら二曲 Baranikyoku (Fellini&Rota)' by World Standard – the most familiar alias of long-serving musician/producer Sohichiro Suzuki – and the hallucinatory, slow-motion tribal rhythms, post-punk rhythms and tape delay-laden electronics of Imitation's 'Exotic Dance'. Or, for that matter, the tipsy mid-'80s electronic reggae of Pecker's 'Sha La La', the grungy but melodic post-punk strut of 'You Go On Natural' by Earthling (a track Twitch accurately describes as "sheer unrelenting groove"), and the unearthly, swirling sonics, new age instrumentation and flotation tank vocals of prolific (and seemingly mysterious) act Geinoh Yamashirogumi's 'Rimme Kohkyogaku Meiki'.

It's a credit to JD Twitch's curatorial skills that the quality never dips, and sonic surprises lurk around every corner. Consider for a moment the hard to describe, far-sighted audio immersion of D-Day's 'Ki-Ra' – all languid post-pop guitar, enveloping chords, spoken word vocals, shuffling 808 beats and marimba melodies – and the two contributions from video games soundtrack specialist (and driving instrumental synth-pop specialist) Hiroyuki Namba.

The collection naturally includes some selections that have long been favourites in Twitch's DJ sets – see Masumi Hara's 'Your Dream' – as well as a handful of tracks from artists who may be more recognisable to those with only rudimentary knowledge of Japanese musical culture. The great Yasuaki Shimizu, whose work as Mariah has become far better known in recent years thanks to reissues of some of his most magical albums, is represented via 'The Crow', a picturesque chunk of horizontal, hard-to-define jazz-not-jazz smokiness, while the collection fittingly concludes with a sublimely funky, oddball electronic workout from Yellow Magic Orchestra legend Ryuichi Sakamoto (the frankly incredible 'Wongga Dance Song').


Tracklist:
A1. World Standard - ばら二曲 (Fellini & Rota)
A2. Masumi Hara - Your Dream
A3. Normal Brain - M.U.S.I.C
A4. Hiroyuki Namba - Who Done It? (Part 2)
B1. Yasuaki Shimizu - Crow
B2. Hiroyuki Namba - Tropical Exposition
B3. Imitation - Exotic Dance
B4. Pecker - Sha La La
C1. EP-4 - Db
C2. Earthling - You Go On Natural
C3. Masumi Hara - Camera
D1. Geinoh Yamashirogumi - Rinne Kohkyogaku Meikei
D2. D-Day - Ki・Ra・I
D3. Ryuichi Sakamoto - A Wongga Dance Song