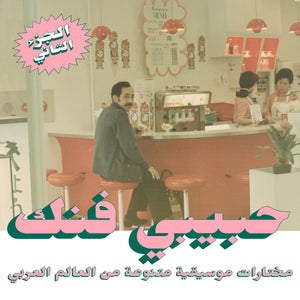 | | |
| --- | --- |
| Format | 2LP  |
| Label | Habibi Funk |
| Catalogue Number | HABIBI015LP |

This compilation of songs is not meant as a historic reflection of popular music of the "Arab world." It is a very personal selection of songs we grew to like at Habibi Funk. It is music that historically never existed as a unified musical genre. We think it's important to make this distinction and to have the listener understand that the majority of the music on this compilation does not come from the highly famous names of the musical spectrum of North Africa and the Middle East. Instead, the final body compiled for this record consists of some – at least for us – nichey pearls and often overlooked artists; resulting in a diverse range of styles from Egyptian organ funk, disco sounds from Morocco, an example of the lively reggae scene of Libya, political songs from Lebanon, soundtrack music from Alge- ria, a musical union between Kenya and Oman, and much more.
The photo we chose for this cover somehow could be seen as an allegory of the sounds we feature on the label. It depicts Algerian composer Ahmed Malek at an ice cream bar dur- ing his stay in Japan for the World Expo in Osaka, 1970. He later said that his visit to Japan and especially the manga culture left a distinctive mark on the way he created his own compositions. With this in mind, it feels as a suiting visual representation for the mu- sic on this compilation.

Accordingly, the compilation you are holding in your hands offers a much wider range of music than just funk influenced sounds. Sure, it brings back Fadoul, who we have already dedicated a full length album to. He was the mystical Moroccan singer who - influenced by the sounds of James Brown- created his own musical vision full of energy but also still very intimate. Another artist we have featured before is Ahmed Malek, the grand Algerian soundtrack composer, whose music is largely connected by a distinct feeling of melancholic beauty or Hamid Al Shaeri, the Egyptian hit producer whose track "Ayonha" was probably the most widely appre-ciated track off our first compilation. But we have also learned that this format of a compilation can serve as a medium to introduce artists to our audience, who we are planning to dedicate full length releases to in the near future, such as Ibrahim Hesnawi. Hesnawi is the father of reggae music in Libya - a genre still widely popular in Libya - and whose presence in the country is commonly connected to the rhyth- mic similarities of reggae with some form of Libyan folkloric music. Nahib Alhoush is another Libyan artist, whose musical output we will spotlight in the near future. In the 1970s, he was the co-founder of Free Music, one of the first Libyan bands introducing western influences into their music. After the band stopped performing together he started an at least equally successful solo career under his own name.

When I got into Arabic music around five or six years ago, I knew pretty much nothing about it. Realistically, I still know very, very little about it and I'm by no means an expert. I just had the opportunity to visit the region frequently, trying to learn about music I might like. Most of the bands, I happen to enjoy, were fairly obscure and therefore a lot of the music on this compilation seems to be largely forgotten. After sharing many of the old records and tapes online through mixes, I have realized that there is a huge disparity be- tween the interest in the music on the one hand and its availability on the other.

All tracks on this compilation are fully licensed, most directly from the artist or in the case of artists, who are deceased licensed from the artist's family. There are two exceptions: Hamid Al Shaeri's track was licensed from SLAM! as the label is still active under the name Sonar. Zohra's "Badala Zamana" from the great Belgian label MTMU, who has reissued this track under license from the producer on 7" format before. As a European label dealing with non- western artists we try to be aware of the responsibilities that derive within the making, regarded from a post-colonial point of view by demanding on ourselves not to reproduce exploitative economic patterns. We split all of the profits from our releases equally with the artists without deducting any costs that are not directly related to the release (e.g. we pay for our research to find an artist as well as all travel costs from our share of the profit). Our agreements are licensed deals with limited terms after which the rights fall back to the artist or the artist's family. The master rights stay with the artists, we just license them. We do not include publishing rights in our deals. We think it is important in today's reissue market, where too many shady business transactions happen, to be transparent about our licensing policies. We are always available for any questions, requests as well as more detailed information.

Tracklist:
1. Douaa - Haditouni 
2. Magdy El Hussainy - Music De Carneval 
3. Fadoul - Ahl Jedba 
4. Sal Davis - Sultan Qaboos Song 
5. Munir Khauli - Heik Ha Nishtghil 
6. Ouiness - Zina 
7. Najib Al Housh - Ya Aen Daly 
8. Zohra - Badala Zamana 
9. Ouiness - Ma'a Ibnat 
10. Ahmed Malek - Casbah 
11. Ait Meslayene - El Fen 
12. Hamid El Shaeri - Reet 
13. Ibrahim Hesnawi - Tendme 
14. Tony Benn Feghaly - Free Blow (Dub Version)