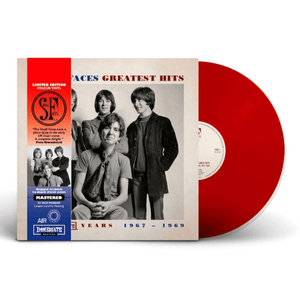 | | |
| --- | --- |
| Release Date | 14/04/2023 |
| Format | LP Red Vinyl |
| Label | BMG |
| Catalogue Number | 5060767444245 |
 
'Greatest Hits – The Immediate Years 1967 - 1969' features over 40 minutes of classic Small Faces singles on Immediate Records. For the first time, all the correct single versions are included, newly mastered to vinyl from original mono master tapes.

Classic hit singles such as 'Itchycoo Park', 'Lazy Sunday', 'Here Come The Nice', 'Tin Soldier', 'The Universal', 'Afterglow Of Your Love', A-sides, rare B-sides, overseas singles, are here, sounding superb! Compiled with Small Faces members Kenney Jones and prior to his death Ian "Mac" McLagan, the LP features an exclusive cover photo by Gered Mankowitz, a colour booklet with rare memorabilia & photos, informative track-by-track analysis, rare memorabilia and reviews plus introductory notes by Kenney and Mac and series producer Rob Caiger.

Tracklist:

SIDE A
1. Here Come The Nice
2. Talk To You
3. Get Yourself Together
4. Become Like You
5. Green Circles
6. Itchycoo Park
7. I'm Only Dreaming
8. Tin Soldier
9. I Feel Much Better

SIDE B
1. Lazy Sunday
2. Rollin` Over (Part II Of Happiness Stan)
3. Mad John (Single Version)
4. The Journey (Single Version)
5. The Universal
6. Donkey Rides, A Penny A Glass
7. Afterglow Of Your Love (Single Version)
8. Wham Bam Thank You Mam