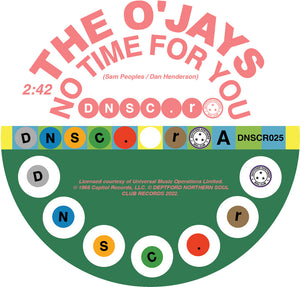 | | |
| --- | --- |
| Release Date  | 25/02/2022 |
| Format | 7" |
| Label | Deptford Northern Soul Club |
| Cat No. | DNSCR025 |
 
The O'Jays "No Time For You" is an emotion-packed stellar mid-tempo groove from 1966. The cream of their mid-60s time on the Imperial label, it was released just a year before their anthem, "I Dig Your Act". Original pressings can fetch $40-70, and even more if it's in good condition. It is remastered for maximum tear jerking power by the Deptford Northern Soul Club Records. It is backed with Willie Hightower's "Because I Love You". This Ric-Tic/Motown-styled drum and harmony classic was originally released on Capitol back in 1967. The hand clapping time change, wayward guitar, gorgeous brass stabs, and a wild all-girl harmony backing, elevates it to an evocative high.

Tracklist:
The O'Jays - No Time For You
Willie Hightower - Because I Love You