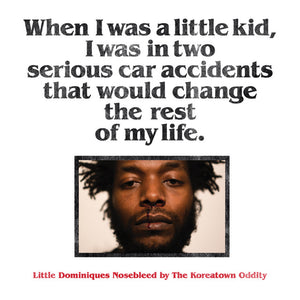 | | |
| --- | --- |
| Release Date: | 05/03/2021 |
| Format: | LP |
| Label: | Stones Throw |
| Catalogue Number: | STH2434LP |

'Little Dominiques Nosebleed' is the second Stones Throw album by LA-based rapper and producer The Koreatown Oddity.

With a distinct lo-fi and experimental sound, the album documents a true-to-life story about growing up Black in Koreatown, LA. Through nostalgic vignettes, 'Little Dominiques Nosebleed' details the artists supernatural powers and spiritual awakening, triggered by two childhood car accidents that left him impaired with frequent nosebleeds and a broken leg.

The Koreatown Oddity takes the listener through this journey with an eclectic array of samples, comedy and hard truths, often featuring the people of his family and community.

The album is produced entirely by The Koreatown Oddity and includes appearances from guest artists Sudan Archives, Anna Wise, Baby Rose, C.S Armstrong, Fatlip (The Pharcyde) and many more.

Tracklist:
Lookin Back from the Future ft. Baby Rose & C.S. Armstrong
Little Dominiques Nosebleed Part 1 ft. Sudan Archives
Koreatown Oddity
Chase the Spirit ft. Jimetta Rose
Darkness Interlude
Ginkabiloba ft. Taz Arnold
Weed in LA
Little Dominiques Nosebleed Part 2
A Bitch Once Told Me ft. Ahwlee
No Llores ft. TrenTruce, Édule & Emmanuel Coto
Attention Challenge ft. Swift, Skyler Duf, Fatlip, Giovanni Marks, Nita Darling & Corrine Atkinson
Kimchi
The World's Smallest Violin ft. Jimetta Rose & Corrine Atkinson
We All Want Something ft. Anna Wise
Lap of Luxury ft. Qur'an Shaheed & Kintaro
Little Dominiques Nosebleed Outro