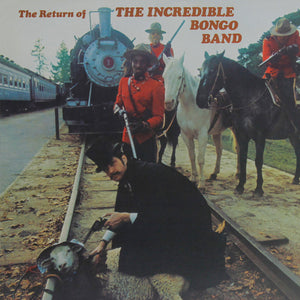 | | |
| --- | --- |
| Release Date: | 17/02/2014 |
| Format: | LP  |
| Label: | Mr Bongo |
| Catalogue Number: | MRBLP119 |

Re-released for the first time since 1974, this is the sequel to the classic 1973 'Bongo Rock', which became a foundation of rap and popular music, up to the present day. This LP has been sampled by Bentley Rhythm Ace, Fatboy Slim, Macy Gray, Group Home and Koushik.

The Incredible Bongo Band is a blend of many multi-talented people. Jim Gordon is one of the featured musicians. Ringo Starr has said "Jim is one of the finest drummers in the world". Gordon composed 'Layla' in association with Eric Clapton.

Tracklist:
1. Kiburi 
2. When The Bed Breaks Down, I'll Meet You In The Spring
3. Sing, Sing, Sing 
4. Pipeline 
5. Wipeout
6. Hang Down Your Head Tom Dooley, Your Tie's Caught In Your Zipper
7. Topsy (Part's 1, 2 & 3)
8. Sharp Nine 
9. (I Can't Get No) Satisfaction 
10. Got The Sun In The Morning And The Daughter At Night 
11. Ohkey Dokey