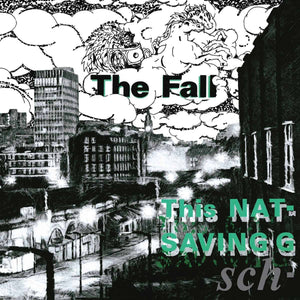 | | |
| --- | --- |
| Format | 2LP/ LP |
| Label | Beggars Banquet |
| Catalogue Number | BBQLP2137/ BBQLP2134 |
 
Beggar's Banquet are launching the next phase of their Fall reissue campaign, hooray hooray! This Nation's Saving Grace, an album by The Fall that almost everyone seems to agree is a classic slice of Fall: impressive, given how hard it is to get that fanbase to agree. Major level Fall, get involved.

Tracklist
This Nation's Saving Grace
A1 Mansion
A2 Bombast
A3 Barmy
A4 What You Need
A5 Spoilt Victorian Child
A6 L. A.
B1 Gut Of The Quantifier
B2 My New House
B3 Paint Work
B4 I Am Damo Suzuki
B5 To Nkroachment: Yarbles
Schtick: Yarbles Revisited
C1 Couldn't Get Ahead
C2 Rollin' Dany
C3 Petty (Thief) Lout
C4 Cruiser's Creek
C5 Vixen
C6 Ma Riley
D1 Cruiser's Creek
D2 Couldn't Get Ahead
D3 Gut Of The Quantifier
D4 Spoilt Victorian Child
D5 L.A.