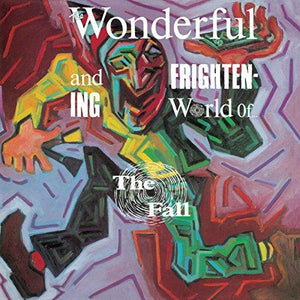 | | |
| --- | --- |
| Format | LP/ 2LP |
| Label | Beggars Banquet |
| Catalogue Number | BBQLP2132/ BBQLP2136 |
 
"The Fall made the leap to a semi-major label -- Beggars Banquet -- with The Wonderful and Frightening World of the Fall, hooking up with noted producer John Leckie to create another smart, varied album. Contemporaneous with the slightly friendlier "Oh! Brother" and "C.R.E.E.P." singles without actually including them, Wonderful and Frightening World makes few concessions to the larger market -- every potential hook seemed spiked with the band's usual rough take-it-or-leave-it stance. Mark E. Smith's audible, tape-distorting spit on the descending chord blast of "Elves" -- already spiked with enough vocal craziness as it is -- gives a sense of where the album as a whole aims. Brix Smith co-writes about half the tracks, creating a strong partnership with many highlights. It may start with a semi-low-key chant, but when "Lay of the Land" fully kicks in, it does just that, Craig Scanlon in particular pouring on the feedback at the end over the clattering din. Smith sounds as coruscating and side-splittingly hilarious as ever, depicting modern Britain with an eye for the absurdities and failures (and crucially, no empathy -- it's all about a gimlet eye projected at everyone and everything). Two further standouts appear on the second half -- "Slang King," a snarling portrayal of a cool-in-his-mind dude and his increasingly pathetic life, and the concluding "Disney's Dream Debased." Though unquestionably the most conventionally attractive tune on the album, ringing guitars and all, Smith's lyrics portray a Disneyland scenario in hell, however softly delivered. Elsewhere, Gavin Friday from the Virgin Prunes takes a bow with his own unmistakable, spindly vocals on the trebly Krautrock chug of "Copped It" and the slightly more brute rhythm of "Stephen Song."

Tracklist
1. Lay of the Land
2. 2 × 4
3. Copped It
4. Elves
5. Slang King
6. Bug Day
7. Stephen Song
8. Craigness
9. Disney's Dream Debased
2LP
The Wonderful And Frightening World Of...
A1 Lay Of The Land
A2 2 by 4
A3 Copped It
A4 Elves
B1 Slang King
B2 Bug Day
B3 Stephen Song
B4 Craigness
B5 Disney's Dream Debased
The Wonderful and Frightening Escape Route to...
C1 Oh! Brother
C2 God Box
C3 c.r.e.e.p
C4 Pat-Trip Dispenser
C5 No Bulbs 3
D1 Slang King 2
D2 Draygo's Guilt
D3 Clear Off!
D4 No Bulbs