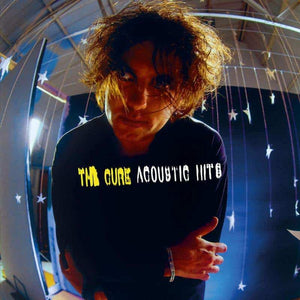 | | |
| --- | --- |
| Format | 2LP |
| Label | Fiction/ Polydor |
| Catalogue Number | 5726340 |
 
Excellent Greatest Hits performed acoustically from the legendary band The Cure. They rose to fame in the late 70's and early 80's as the post-punk / alternative scene was then blooming, The Cure being at the forefront. Curated by Robert Smith himself, Greatest Hits & Acoustic Hits provides an insight to their transformations as a band, delving into a selection of their gloomy goth-tinged tunes right through to a range of their infectious pop-driven hits and serves as a taster to twenty years of their highly influential music.
Acoustic versions of all the tracks that featured on the main compilation. Features versions of Lullaby, Friday I'm In Love, Boys Don't Cry.
Tracklist:
1. Boys Don't Cry
2. A Forest
3. Let's Go To Bed
4. The Walk
5. The Lovecats
6. Inbetween Days
7. Close To Me
8. Why Can't I Be You?
9. Just Like Heaven
10. Lullaby
11. Lovesong
12. Never Enough
13. High
14. Friday I'm In Love
15. Mint Car
16. Wrong Number
17. Cut Here
18. Just Say Yes