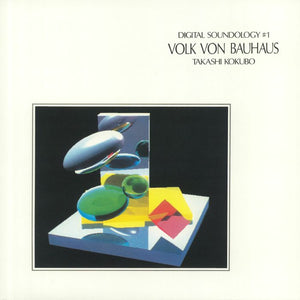 | | |
| --- | --- |
| Format: | LP |
| Label: | Glossy Mistakes |
| Catalogue Number: | GLOSSY003 |

Takashi Kokubo makes archetypal Japanese ambient, new age and experimental synth sounds. But not only that, he also created the nationally-used mobile phone earthquake alert sound and designed credit card payment jingles that pervade all of Japanese society. His sound, then, is very much the sound of the Far East. It has been that way since at least this album came out back in 1985. It's a classic of the genre, hard to find and hugely expensive if you do. This full scale reissue sinks you into his world of distant chimes, eerie chords and spring-time soundtracking that is pure as ice.

Tracklist:
Side 1
1. "Playing Among The Gods" (Side 1: Aesthetics Between The Two Phrases) (5:07)
2. "Melancholy II" (5:39)
3. "Before You Dream" (5:34)
Side 2
1. "Fluctuation 1" (Side 2: Fluctuation) (2:53)
2. "The Insane Time Keeper" (2:45)
3. "Fluctuation 2" (3:07)
4. "Daze/Fluctuation Step 1" (4:02)
5. "Chaos" (4:10)
6. "Music For The Corridor" (bonus track) (5:27)