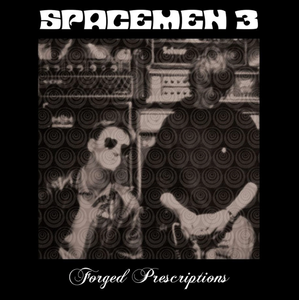 | | |
| --- | --- |
| Release Date: | 15/12/2023 |
| Format: | 2LP Black |
| Label: | Space Age Recordings |
| Catalogue Number: | ORBIT082LP |
Space Age Recordings are pleased to announce the release of, for the first time ever on vinyl, Spacemen 3 "Forged Prescriptions".

Featuring Sonic Boom a.k.a. Peter Kember (Spectrum, E.A.R.) and Jason Pierce (Spiritualized). Packaged in a gatefold sleeve with a new take on the original artwork layout. The audio has been digitally remastered by John Rivers at Woodbine Studios and spans across two 180g Heavyweight Black vinyl to ensure the purest of sound quality. This is definitely one for the collection.

This double album contains a myriad of alternative takes and demo versions from Spacemen 3's album "The Perfect Prescription" Including, at the time of the CD release, some never before heard tracks. In his liner notes, Spacemen 3's Sonic Boom says this release presents the album's songs in their "full guitar laden versions with all the layers of beautifully streamlined guitar — considered by us to be too hard to replicate live and therefore reduced for the original release." "For me, this is where Spacemen 3 song writing came to a head – many of these songs pre-dated "Sound Of Confusion", some were even recorded at both sessions, but I am still impressed mightily by Jason's lyrical genius on originals like "Walking With Jesus" and re-writes like "Come Down Easy" and his fluid guitar playing across the whole sessions. To be sure "Playing With Fire" was soon to be our long and sultry Indian Summer but "Perfect Prescription" was the progeny of that hot, lazy (and occasionally rainy) summer." Sonic Boom.

Tracklist:
Side A)
1 Things'll Never Be The Same
2 Walking With Jesus
3 Ode To Street Hassle
4 Call The Doctor
5 Feel So Good
Side B)
1 Come Down Easy (Demo)
2 Transparent Radiation (Single Version)
3 Ecstasy Symphony
4 Soul
Side C)
1 Transparent Radiation
2 Come Down Easy
3 Walking With Jesus (Demo)
4 Things'll Never Be The Same (Demo)
Side D)
1 We Sell Soul
2 Starship (Demo)
3 Take Me To The Other Side (Demo)
4 Velvet Jam
5 I Want You Right Now