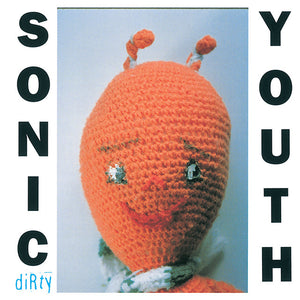 | | |
| --- | --- |
| Release Date | 2016 |
| Format | 2LP |
| Label | Geffen |
| Catalogue Number | 602547349354 |

Sonic Youth's seventh album 'Dirty' was released in 1992 at the height of the grunge movements powers. The NY noise rockers were one of the most influential to the muddy rock scene, so it made sense they'd soak up a heap of influences from the groups they were touring with at the time. 'Dirty' is packed full of catchy alternative rock tunes, complete with their avant-rock guitar theatrics and super-cool vocal deliveries of Kim, Thurston and Lee. Some will say this is 'pop' Sonic Youth, but the tunes like 'Sugar Kane', '100%', 'JC' and 'Youth Against Fascism' make this irresistible record an ideal starting point into Sonic Youth's unique take on guitar music.
Tracklist
100% 
Swimsuit Issue 
Theresa's Sound-world 
Drunken Butterfly 
Shoot 
Wish Fulfillment 
Sugar Kane 
Orange Rolls, Angel's Spit 
Youth Against Fascism 
Nic Fit 
On The Strip 
Chapel Hill 
JC 
Purr 
Créme Brûlèe