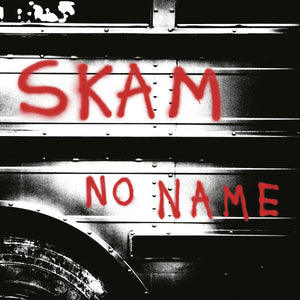 | | |
| --- | --- |
| Release Date: | 06/10/2023 |
| Format: | LP |
| Label: | Drag City  |
| Catalogue Number: | SN25 |

Lost in time yet always in season, here's a blast of that ol' perennial, the punk rock, representative of the swiftly changing times around Bailey's Crossroads, just outside Washington DC, in the early 80s. Skam recorded this stuff in '82-'83, then broke up, leaving these songs to be released….maybe never? Or more preferably, now, to race into the bloodstream of jaded, faded today with all the vigor and rigor of Skam's eternal youth.

But until renowned label Drag City swooped in, few had a chance to discover his first, SKAM. No Name's 40-ish minutes of heretofore unreleased recordings vary in audio quality and technical skill, but consistently present a band on the more melodic end of 1980-83 hardcore.

Tracklist:
1. No Name 
2. Organized Religion 
3. Open Your Eyes 
4. I Want War 
5. Search and Destroy 
6. Capital Punishment 
7. Leave Me Alone 
8. Idle Youth 
9. Toxic City
10. Another Statistic 
11. On the Shelf 
12. Respect 
13. Happen Anywhere 
14. Unpaid Vacation (Live) 
15. Cheated (Live) 
16. Middle Class (Live) 
17. No Name (Live)