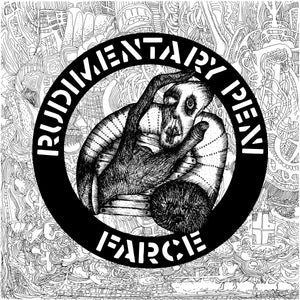 | | |
| --- | --- |
| Release Date | 29/09/2023 |
| Format | 12" |
| Label | Crass Records |
| Catalogue Number | 2219842 |

Punk pioneers Crass continue their vinyl reissue series, re-pressing their limited releases by adjacent artists through Crass Records, in association with One Little Independent. The series, including over twenty bands and solo artists recorded at the legendary Southern Studios and produced by Penny Rimbaud, continues with two more historic pieces from the Crass Records catalogue; 'Farce' by Rudimentary Peni and 'Can't Cheat Karma' by Zounds, out September 29th.

Rudimentary Peni were a British punk band formed in 1980 emerging from the London anarcho scene. Lead singer/guitarist Nick Blinko was notorious for his witty, macabre lyrics and dark pen-and-ink artwork, prominently featured on all Rudimentary Peni's albums. They recorded their first EP in 1981 released on Outer Himalayan. The band played their first London show the same year with Flux of Pink Indians and Subhumans. The 'Farce' EP was released on Crass Records in 1982. Rudimentary Peni stopped performing in the mid-80s after bassist Matthews was diagnosed with cancer. After a 4 year hiatus, they recorded 'Cacophony' (1988), a sonic tribute to seminal New England horror author H.P. Lovecraft. The band continued to record and release material into the
21st century, including the album 'Pope Adrian 37th Psychristiatric' (1995) and the EPs 'Echoes of Anguish' (1998), 'The Underclass' (2000), 'Archaic' (2004) and 'No More Pain' (2008), and maintained a diverse cult following in the US punk scene. They were namechecked in the Oscar-nominated Sound of Metal, included in a succession of cult band shirts worn by Riz Ahmed. Most reissues of their 1980s albums are now out of print.

Penny Rimbaud remembers of Rudimentary Peni; "They were awkward buggers, they made an art of it. In a their roudy mix of off-kilter growls of anguish and savage squeals of pain, they were the precursors of American hardcore. They set a new standard of existential angst with their brain-storming acts of aural violence and skull-breaking falls from grace. Hitting the nail fair and square on the head, they had it made, and it was bad, bad, bad which, of course, made them super good. Love 'em or leave them, Rudimenary Peni didn't give a toss. They were in for the kill, and damned nearly made one. Listen at your own peril".

First released on 7" vinyl, limiting the sound, the new series has been remastered for 12" by Alex Gordon at Abbey Road Studios, allowing them to be heard as never before. This, plus enlarged replicas of the original covers, brings new gusto to their already radical sound.

Tracklist
Sacrifice
Cosmetic Plague
Subdued violence
Only Human
The Bile Ball
Farce
Bloody Jellies
Mice Race
Defined by Age
Zero Again
Bubble