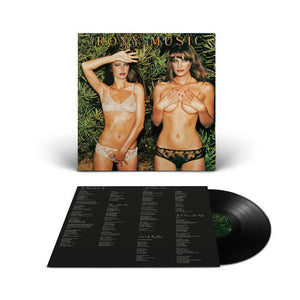 | | |
| --- | --- |
| Release Date: | 13/05/2022 |
| Format: | LP |
| Label: | UMC/EMI |
| Catalogue Number: | RMLP4 |

Critically" Country Life' is deemed to be Roxy Music's most consistent and sophisticated album, the albums artwork is still to this day considered controversial in certain countries but is non the less iconic around the World. Musically and lyrically "Country Life" has been considered more cynical and hard rocking than previous Roxy Music albums, "Country Life" is an album that is ever present on top 100 Album charts of all time of forever will be.

Each Roxy Music album has been Re-Issued with a fresh Half-Speed cut by Miles Showell at Abbey Road Studios. London. To reflect the audio, all eight of the Roxy Music studio albums have had their artwork revised and with a gloss laminated finish so that each album is not just a record it's a piece of art.

Tracklist:

The Thrill Of It
Three And Nine
All I Want Is You
Out Of The Blue
If It Takes
All Night
Bitter Sweet
Triptych
Casanova
A Really Good Time
Prairie Rose