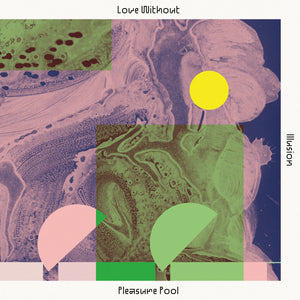 | | |
| --- | --- |
| Release Date | 03/02/2023 |
| Format | LP |
| Label | Optimo Music |
| Catalogue Number | OMLP24 |

Pleasure Pool are Finn O'Hare (synths, production), Andrew Robertson (vocals) and a rolling cast of Glasgow-based musicians, performers and artists. They sound like nothing else to have come out of Glasgow recently, exploring the territory between live performance and club culture through their collaborative ethos and party-starting attitude. Their debut EP, Night Scars, arrived in early March 2020 and now comes Love Without Illusion, Pleasure Pool's debut album, released on Optimo Music.

Largely written during the pandemic, Love Without Illusion adds layers of complexity and introspection to Night Scars' squarely dance floor-focused brew, though the record still oozes danceable energy. Open Hours is like opening a door and finding a party already in full swing, an assortment of recurring Pleasure Pool motifs – echoing, dubbed-out vocals, gorgeous, impossibly airy synth melodies, louche percussion, cowbells, rising and falling flecks of trumpet – all introduced in short order. Lick The Bag, which prominently features vocalists Chloe Charlton and Raissa Pardini, has a controlled chaos befitting its morning-after-the-night-before name.

The rest of the album rides this glimmering, night-magic mood at varying frequencies, with the title track a gentle storm of grandiose walls of synth and pulsing vocal fragments. The slow and low flickering funk of album closer Zero Hours pulls all that has come before it together to end things in the woozy bliss of a walk back home in warm, gentle sunlight.

Love Without Illusion is a dazzlingly complete expression of Pleasure Pool's intoxicating sound and vision. Dive on in and explore.

Tracklist:
1. Open Hours 
2. Lick The Bag 
3. Modern Nature 
4. Sell Your Stuff 
5. Pure Touch
6. Ask Your Body 
7. Love Without Illusion
8. Zero Hours