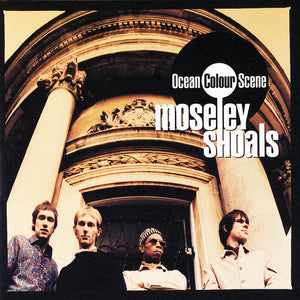 | | |
| --- | --- |
| Release Date | 25/11/2022 |
| Format | 2LP |
| Label | Island |
| Catalogue Number | 7768357 |
 
Moseley' takes its name from an area in Birmingham, Moseley Shoals is a tribute to Muscle Shoals, the legendary soul recording studios in Alabama. A low-key start to their career was boosted by two things – the endorsement of two of Britain's biggest pop stars – Paul Weller and Noel Gallagher, and the exposure given to the first single, "The Riverboat Song", by Chris Evans on his hit TV show TFI Friday.

The album was produced by Weller's producer at the time – Brendan Lynch, giving it a strong, organic R&B feel (influenced by the Small Faces and Weller's solo recordings) with a pronounced 60s flourish, mixing in traces of Beatles and Stones, as well as elements of prog-rock and psychedelia, adding an even more eclectic flavour to their sound.

Tracklist
A1 The Riverboat Song
A2 The Day We Caught The Train
A3 The Circle
B1 Lining Your Pockets
B2 Fleeting Mind
B3 40 Past Midnight
C1 One For The Road
C2 It's My Shadow
C3 Policemen & Pirates
D1 The Downstream
D2 You've Got It Bad
D3 Get Away