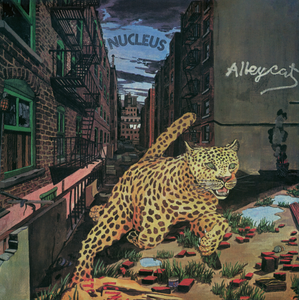 | | |
| --- | --- |
| Release Date | 02/06/2023 |
| Format | LP  |
| Label | Be With Records |
| Catalogue Number | BEWITH105LP |

Come for the leopard, stay for the stone cold jams. Yet another thrilling, funky-prog jazzy-rock fusion beauty from Ian Carr's Nucleus. Originally released on Vertigo in 1975, Alleycat was never re-pressed so those original copies are now very tricky to score. Like all the Nucleus records, it's aged ridiculously well and this Be With re-issue, re-mastered from the original analogue tapes, shows off just why this deserves to be back in press.

Genius trumpeter and visionary composer Ian Carr was one of the most respected British musicians of his era. He was a true pioneer and saw the potential in fusing the worlds of jazz with rock, just as Miles Davis and The Tony Williams Lifetime did in the US. In late 1969, following the demise of the Rendell-Carr quintet, and tiring of British jazz, Carr assembled the legendary Nucleus. Regarding music as a continuous process, Nucleus refused to "recognise rigid boundaries" and worked on delivering what they saw as a "total musical experience". We can get behind that.

Under bandleader Carr, Nucleus existed as a fluid line-up of inventive, skilled musicians. This constant evolution and revolution was all part of the continuous musical exploration and discovery that took jazz to new levels. And the music has stayed relevant. To steal a line from a recent review of our re-issue of Roots, when it comes to anything Nucleus "it's basically already hip-hop".

Alleycat was the last Nucleus album recorded for the Vertigo label. Released in 1975, it was again meticulously produced by Jon Hiseman and is every bit as sinuous as anything else the group had recorded. As far as riff-laden accidental cop-funk goes, there's so much energy coursing through the music that at times it sounds like a live recording. It's pretty unbeatable.

Uptempo opener "Phaideaux Corner" is a funk-flavoured opus with a groove that simply swaggers. This trademark Roger Sutton piece benefits from Trevor Tomkins's percussive expertise and some excellent sax and keyboard soloing. Check out Geoff Castle on squelchy, stabbing Moog duties. Ian Carr's elegantly laidback title track is a lengthy suite of magisterial themes. Typically complex, it still gets you hooked and is just riddled with the funk. Carr builds up his initially "straight" trumpet solo with later use of echo to mesmeric effect. And there's some excellent wah-wah guitar shredding by Ken Shaw too. Nice.

The second side opens with the killer "Splat" and finds Nucleus really ripping it up. A fat, funky bass guitar riff introduces us to the track and stays with us until the end. The often mangled bass groove is pushed along by rattling drums and percussion, dropping out for some restful moments of spacey calm, and along the way picking up some lengthy keyboard noodling by Castle. So so good.

The cool "You Can't Be Sure" is a gentle jam with Shaw on 12-string acoustic guitar, together with Carr's muted trumpet and some marvellous fretless work from Sutton for extra colour. The album closes with Bob Bertles' galloping "Nosegay", written perhaps as a response to some of the faster Mahavishnu Orchestra pieces. It's an example of well crafted jazz-rock that doesn't compromise any of its jazziness, yet it still very definitely rocks.

This Be With re-issue of Alleycat has been re-mastered from the original Vertigo master tapes, Simon Francis' mastering working together with Pete Norman's cut to weave their usual magic with these wonderful recordings. The cool AF cover - that leopard was just a cat before he heard Nucleus, you know - has been restored as the finishing touch to this long overdue re-issue.

Tracklist:
Phaideaux Corner
Alleycat
Splat
You Can't Be Sure
Nosegay