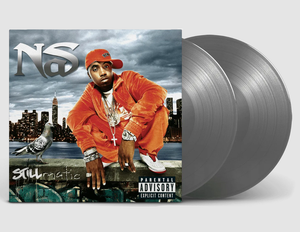 | | |
| --- | --- |
| Release Date | 27/10/2023 |
| Format | 2LP Silver Vinyl |
| Label | Get On Down |
| Catalogue Number | GET51333LP |
Few hip-hop artists have achieved the same level of critical acclaim and praise that 90s veteran and Queens native Nasir "Nas" Jones has. Across his career he has been ranked as one of the greatest rap performers and lyricists by MTV, The Source, and Complex, among other publications, all while selling over 30 million records worldwide, and releasing eight consecutive platinum albums. In particular, his 1994 debut Illmatic is hailed as a paragon of underground hip-hop, a turning point in East Coast rap's development, and one of the all-time greatest debut albums in general.
Though Nas' artistic legacy is without question, it was not always the case; if Nas had flourished during the mid-90s, he had stumbled clumsily while transitioning into the 00's. After achieving universal praise via Illmatic and commercial success with its' follow-up It Was Written, Nas' next few releases were considered inconsistent compared to the critical one-two punch they followed. During this time period he had abandoned the socially-conscious and philosophical topics that made him a critical darling in favor of more commercially viable gangsta rap. Though he maintained a chart presence for much of the late-90s, review scores began to dwindle, and his status among the hip-hop community was thrown into question. This would change in 2001 with the release of Nas' fifth studio full-length, which made the effort to re-establish him as a legitimate artist. Eschewing the pop-friendliness he'd found success with, Nas instead opted to return to the underground style he came up in, with tracks about American politics, ghetto life, and social upheaval.
Perhaps sensing this need to return to his roots, he titled the album Stillmatic, a clear and present reference (and sequel of sorts) to Illmatic. Stillmatic was hailed by critics as a stunning comeback, and a brilliant return to form, earning rave reviews from rap outlets such as The Source and HipHopDX as well as from more mainstream publications as Rolling Stone and The Village Voice. Praise was heaped upon the complexity and introspective nature of Nas' lyrical content, the top-tier production from veterans like Large Professor, DJ Premier, L.E.S., and Trackmasters, and hard-hitting guest appearances from AZ, Mary J. Blige, and Amerie.
Tracklist:

A1. Stillmatic (The Intro)
A2. Ether
A3. Got Ur Self A…
A4. Smokin'
B1. You're Da Man
B2. Rewind
B3. One Mic
B4. 2nd Childhood
C1. Destroy & Rebuild
C2. The Flyest (feat. AZ)
C3. Braveheart Party (feat. Mary J. Blige & Bravehearts)
C4. Rule (feat. Amerie)
D1. My Country (feat. Millenium Thug)
D2. What Goes Around (feat. Keon Bryce)
D3. Every Ghetto (feat. Blitz)