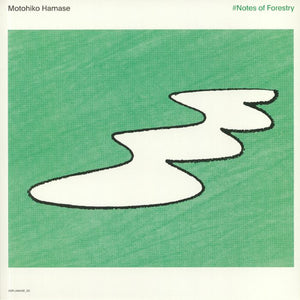 | | |
| --- | --- |
| Format: | LP |
| Label: | We Release Whatever The Fuck We Want |
| Catalogue Number: | WRWTFWW034 |

For the latest release in their ongoing "Esplande Series" focusing on the work of Japanese ambient minimalists, Swiss reissue specialists WRWTFWW have decided to deliver a new edition of Motohiko Hamase's rather good - but very hard to find - 1988 release "Notes of Forestry". It remains a remarkable work, sitting somewhere between the fluid and heavenly electronics of new age ambient, the cyclical minimalist movements of Steve Reich, free-jazz and the kind of free-wheeling, loose-limbed works most often associated with experimental percussionists. Hamase is a bass player by trade, and its' his fast-fingered fretless bass playing that catches the ear throughout (though it by no means dominates the sound space).

Tracklist:
Side 1
1. "Notes Of Forestry" (6:15)
2. "Pascal" (7:47)
Side 2
1. "Sprial For Multiple Instruments" (8:07)
2. "Nude" (17:14)