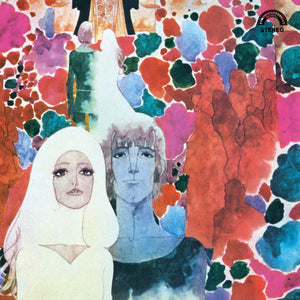 | | |
| --- | --- |
| Release Date | - |
| Format | LP Black |
| Label | Finders Keepers |
| Catalogue Number | FKR079LP |

"There was a time when the strength of a musician's vision transcended all labels; here is a chance to dip into that pool again, and emerge not just refreshed, but alive again with the sense that we all can live in that world again, but most importantly raise the flag for excellence. Fantastic." – Jim O'Rourke

An unholy grail of near mythical status finally joins the Finders Keepers Records discography in the form of this first-ever reissue of Masahiko Sato's elusive sensual psychedelic free jazz score to the stunning Japanese witchcraft animation Belladonna Of Sadness (Kanashimi no Belladonna) directed by anime screenwriter Eiichi Yamamoto in 1973. An early feature-length example of a micro-genre in which Japanese anime producers collaborated with the "pink" film genre, Belladonna's challenging occult, sexual and political subject matter was the cause of the film's notoriety for many years, earning Yamamoto's work a critical platform amongst some of the best counterculture animation films of the era such as La Planète Sauvage ( René Laloux/Roland T poor, France 1973), Marie Mathématique (Jean-Claude Forest, France 1967), Wizards (Ralph Bakshi, US 1977), Heavy Metal (Gerald Potterton, Canada 1980) and Time Masters (René Laloux/Moebius, France 1982). Drawing further stylistic similarities with Shuji Terayama/Tenjo Sajiki associated poster artist Aquirax Uno and the Hara-Kiri magazine cartoon strips Pravda/Jodelle by French artist Guy Peellaert, as well as the early flamboyant Klimtesque imagery of Jean Rollin collaborators Philippe Druillet and Nicolas Devil, Belladonna Of Sadness brought a strong European flavour to its sophisticated and stylish Japanese application which accentuated the French origins of the plot loosely based on accounts taken from the 1862 book La Sorcière (The Witch) by French historian Jules Michelet.

Over the last decade Belladonna Of Sadness has risen from the ashes and now shines brighter than ever. Now on the eve of its third or fourth global DVD release, fans no longer have to wait four months for third generation VHS telecine rubs from "that guy" in the States, or stuff their ambitious wish lists into the hands of any lucky friends visiting Tokyo in the summer. Belladonna has been used as nightclub projections by clued-up VJs and been restored by discerning feminist folk singers and improv bands while influencing illustrators, fashion designers and other creative types along the way.

Tracklist

1. Andy Warhol 
2. Belladonna 
3. Valle Incantata 
4. The Notice Is Notice
5. Mr. London
6. Little Flower 
7. Funny Feeling 
8. TBSF 
9. Take It Easy