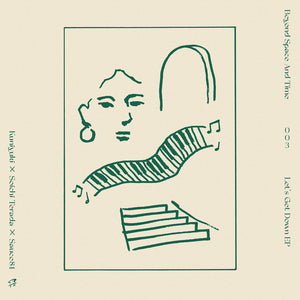 | | |
| --- | --- |
| Format | 12" EP |
| Label | Beyond Space And Time |
| Catalogue Number | BEST003 |
 
Starting life as a performance at Japan's Rainbow Disco Club festival, Beyond Space And Time release Let's Get Down EP from Kuniyuki, Soichi Terada & Sauce 81.

"Kuniyuki, a leading figure in the 21st-century electronic music scene, Soichi Terada, who returned from the dawn of the '90s Japanese house, and the multi-instrument player Sauce 81, who is the master of US-rooted disco production. A recording of an intense improvisation studio session of three talented Japanese musicians.

The release kicks off with A-1 "Slowdown", a dreamy black-eyed house track, with an authentic gospel-like chorus, bell synths, and ocean drums that sparkle throughout the track. Then moves into A-2 "Get Up", A hypnotic leftfield tune, inspired by the 80's machine disco with diffused vocoder voices. It concludes with B-1 "Let Us In", a laid-back fusion of cosmic synth in an old-school rhythm section.

Inspired by the authentic sounds from the '80s and '90s, Kuniyuki, Soichi Terada, and Sauce 81 bring you three future-oriented soulful improvisation jams to today."

Tracklist:
Slowdown
Get Up
Let Us In