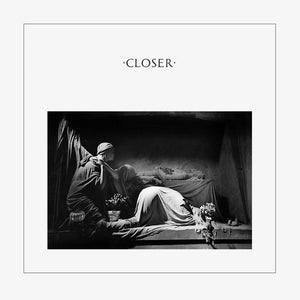 | | |
| --- | --- |
| Format: | LP |
| Label: | Factory |
| Catalogue Number: | FACT. 25R |

The iconic Manchester quartet's second and final album before the suicide of lead singer Ian Curtis, the latter's specter naturally looms large over almost all appraisals of this densely atmospheric work. The album would, however, be considered a classic under any circumstances and Curtis' lyrics, pregnant with poetic imagery and historical symbolism, set him apart as one of the best frontmen in contemporary music, irrespective of his untimely demise. The foreboding existential anguish of 'Passover', along with the Kafka-inspired proto-death rock of 'Colony' are two particular highlights of the A side before the album's triumphant denouement with tracks like 'Twenty-Four Hours' and 'The Eternal'. Martin Hannet's production expertly captures the ephemeral brilliance of one of the most enigmatic groups in history on Closer - an unparalleled parting shot. 

Tracklist:
 A1 Atrocity Exhibition
A2 Isolation
A3 Passover
A4 Colony
A5 A Means To An End
B1 Heart And Soul
B2 Twenty Four Hours
B3 The Eternal
B4 Decades