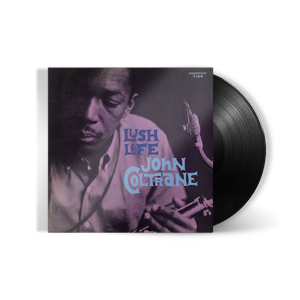 | | |
| --- | --- |
| Release Date | 10/11/2023 |
| Format | LP |
| Label | Craft Recordings |
| Catalogue Number | 1811311 |

Released in early 1961, Lush Life was assembled from previous unissued tracks from three recording sessions at Van Gelder Studio in Hackensack, New Jersey in 1957 and 1958.

John Coltrane's Prestige years began when he joined the Miles Davis Quintet in 1955. During the next few years, when he was either with Davis or the Thelonious Monk Quartet, he functioned as both leader and sideman for this label. These recordings document the first part of his relatively short but highly influential time in the spotlight. Lush Life, a combination of standards and a blues, treated in the unique Coltrane manner - sound wedded to material in a completely personal way - contains three tracks without a piano. This is the first time he recorded in this manner, other than when Monk was 'strolling,' and it offers another aspect from, and of, Trane.