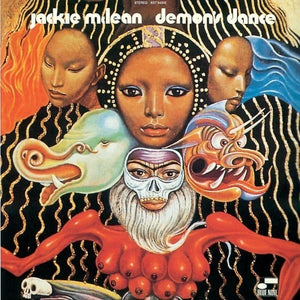 | | |
| --- | --- |
| Release Date | 06/10/2023 |
| Format | LP (Tone Poet Series) |
| Label | Blue Note  |
| Catalogue Number | 3896334 |

Jackie McLean's music weaved in and out of the avant-garde throughout the 1960s with the brilliant 1963 inside-out dates One Step Beyond and Destination… Out! eventually leading to full-throated free jazz of the 1967 dates New and Old Gospel (featuring Ornette Coleman on trumpet) and 'Bout Soul. Demon's Dance, which was recorded in December 1967, found the alto saxophonist maintaining a decidedly post-bop edge with a spirited quintet comprised of trumpeter Woody Shaw, pianist LaMont Johnson, bassist Scott Holt, and drummer Jack DeJohnette. The six-song set presented a pair of tunes each by McLean, Shaw, and composer Cal Massey with highlights including McLean's churning title track, Shaw's tuneful bossa "Sweet Love of Mine," and Massey's brightly swinging "Message from Trane" in tribute to the great John Coltrane who had passed away early that year. But the album's most striking feature may be the unforgettable cover artwork by Mati Klarwein whose work also graced the cover of Miles Davis' Bitches Brew.

Tracklist

Demon's Dance
Toyland
Boo Ann's Grand
Sweet Love Of Mine
Floogeh
Message From Trane