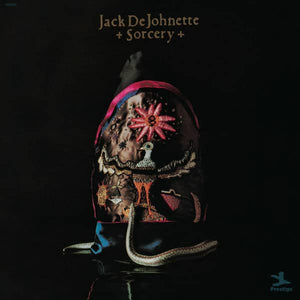 | | |
| --- | --- |
| Release Date | 11/08/2023 |
| Format | LP |
| Label | Craft |
| Catalogue Number | 7244082 |
 
Sorcery finds DeJohnette teamed up with a tight crew of virtuosic bandmates, including veterans of Miles Davis's Bitches Brew sessions (bassist Dave Holland) and Herbie Hancock's Headhunters band (Bennie Maupin). Discursive, meditative, trippy but grounded in tasty grooves (the deep digger drum break "Epilog") and laced with flurries of Hendrix-on-jazz-steroids guitar from 6-string heroes John Abercrombie and Mick Goodrick plus the ahead-of-its-time electronic processing of DeJohnette, this band would never be mistakenly filed under Smooth Jazz. This 180-gram Jazz Dispensary reissue of Sorcery was cut from the original analogue tapes by Kevin Gray and pressed at RTI, and comes packaged in a tip-on jacket.

Tracklist

Sorcery # 1 
The Right Time 
The Rock Thing 
The Reverend King Suite 
Reverend King
Obstructions
The Fatal Shot
Mourning
Unrest
New Spirits On The Horizon
Four Levels Of Joy
Epilog