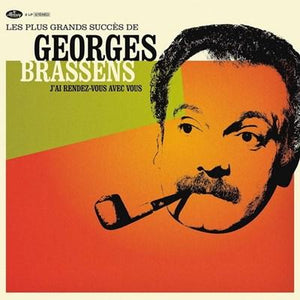 | | |
| --- | --- |
| Release Date | 22/10/2021 |
| Format | 2LP |
| Label | Blue Wrasse |
| Catalogue Number | 5371572 |
 
'Born on October 22, 1921, Brassens has become over time the central pillar of French song. In the 1950s, his career exploded. Success will never leave him. Georges Brassens is a man who read a lot, wa patient and hardworking, cultivated, erudite. He took his time to chisel each of his songs, in search of the correctness of each line, of each rhyme, of each sentence. A goldsmith of words. Love, religion, death, women, everything is subject to derision. Teasing or abrasive, often mocking, everything is treated with humour, mixing mythology and scenes from ordinary lives, he remained deeply a poet with always great sensitivity and infinite tenderness. This autumn will be the centenary of his birth. This is the 2LP set of "J'ai Rendez-vous avec vous".

Tracklist:
A1 La Mauvaise Réputatuion
A2 Le Gorille
A3 La Chasse Aux Papillons
A4 Le Parapluie
A5 Le Petit Cheval
A6 Brave Margot
A7 La Cane De Jeanne
B1 Les Amoureux Des Bancs Publics
B2 Chanson Pour L'Auvergnat
B3 Le Mauvais Sujet Repenti
B4 Les Sabots D'Hélène
B5 P... De Toi
B6 Une Jolie Fleur
B7 Au Près De Mon Arbre
C1 Je Me Suis Fait Tout Petit
C2 la Femme D'hector
C3 Le Pornographe
C4 Les Funérailles D'antan
C5 Dans L'eau de la Claire Fontaine
C6 Le Temps Ne Fait Rien A L'affaire
D1 Les Trompettes de la Renommée
D2 Les Copains D'abord
D3 Supplique Pour Être Enterré A La Plage de Sete
D4 Fernande