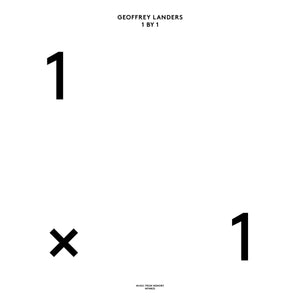 | | |
| --- | --- |
| Format: | 2LP |
| Label: | Music From Memory |
| Catalogue Number: | MFM025 |
 
Music From Memory's final compilation of 2017 sees the release of the double album "1 by 1", which brings together the works of American experimental musician Geoffrey Landers. During a period spanning from 1979 to 1987, this Denver, Colorado based multi-instrumentalist, composer, record producer and engineer, conceived several solo albums. Only two of these, "The Ever Decimal Pulse" and "Habitual Features" along with the single "Breedlove" were ever released on vinyl.

Being heavily involved in the local industrial/punk/new wave scene and wanting to create a recording studio "available to record artists regardless of their financial circumstances" Landers set up "The Packing House Studio" in 1981. This analog 8-track recording facility was located in a former slaughterhouse in the stockyards of Denver and was a place of significant activity for the next three years with the studio releasing recordings from numerous artists most notably Allen Ginsberg.

It was here that Geoffrey Landers also started his own aptly named "Cauhaus" label. Indicative of the underground/DIYculture, "Cauhaus" was a subsiduary of a label called Local Anaesthetics which was started as an in-store label by independent Denver record store Wax Trax. Typically Cauhaus releases were only pressed up in small quantities and independently distributed, making Lander's music essentially elusive to a wide audience. After relocating in 1984 to an art district of Denver Landers opened the "Cauhaus Institute of Recording" studio where he continued to produce music for soundtracks, art and multi media projects for the next three years, after which Landers stepped out of the music industry entirely. He currently creates and exhibits mixed-media glass art.

Throughout the twenty tracks of "1 by 1", of which six previously appeared on CD only, we are submerged into a wide diversity of musical approaches from Geoffrey Landers. From the proto-house track "Logarhythms" and the heart breaking New-Wave Boogie/Funk of "Say You'll Say So" to the more contemplative pieces such as the oriental insprired "Nisei" and the drenched in sunshine dub/reggae track "Mack" Landers shies away from musical expectations again and again; searching continually for innovative and new forms of expression.

Tracklist

1. So
2. Logarhtyhms 
3. Breedlove 
4. Sex Music 
5. Carry Me Off 
6. Say You'll Say So 
7. Carmella 
8. It's Telling On Me 
9. Sandbars Alone 
10. Don't Push Me Away 
11. Anodyne 
12. Minord Birds
13. Brian's Having A Party 
14. Nisei 
15. Smooth Edges 
16. Overhead Glass 
17. Alluring Pause
18. Exerpts From Ground Zero
19. 1 By 1
20. Mack