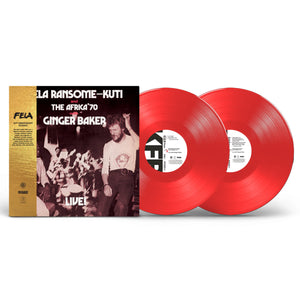 | | |
| --- | --- |
| Release Date | 25/02/2022 |
| Format | 2LP Red Vinyl  |
| Label | Knitting Factory Records |
| Catalogue Number | KFR2003-3 |

The 50th-anniversary reissue of Live! is pressed on double red vinyl and features an etching of the album artwork on Side D. Side C features Ginger Baker and Tony Allen's blinding, extended, dual-drums solos from 1978's Berlin Jazz Festival, re-mastered at Abbey Road Studios in 2021. This anniversary reissue marks the first vinyl pressing of these performances.

Originally recorded in 1971 by Fela Kuti's band, Africa 70, with the addition of former Cream drummer Ginger Baker, this album contains 4 songs plus a bonus track 16-minute drum duet between Baker and Africa 70's drummer Tony Allen recorded at the 1978 Berlin Jazz Festival.

Tracklist:
1. Let's Start 
2. Black Man's Cry 
3. Ye Ye De Smell 
4. Egbe Mi O (Carry Me I Want To Die) 
5. Ginger Baker and Tony Allen Drum Solo, Pt. 1 (Live at Berlin Jazz Festival, 1978) 
6. Ginger Baker and Tony Allen Drum Solo, Pt. 2 (Live at Berlin Jazz Festival, 1978)