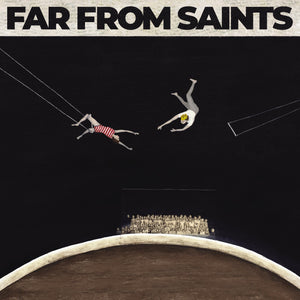 Release Date
16/06/2023
Format
LP/ CD
Label
Ignition Records Ltd.
Catalogue Number
IGNLP219/
IGNCD219

Kelly Jones of Stereophonics has co-written an album with Austin's Patty Lynn and Dwight Baker (aka The Wind and The Wave) resulting in the formation of a new band Far From Saints, evoking a cross-genre sound spanning country, rock, folk, and Americana. Far From Saints is a project born from a shared, unadulterated love of music and collaboration, rich with emotions, creative integrity and defined by the unique sound of Kelly and Patty's vocal harmonies.

Today sees Far From Saints share their debut track 'Let's Turn This Back Around' along with the song's official video directed by Kelly Jones. It comes as they prepare to release their debut album accompanied with live shows later this year.

'Let's Turn This Back Around' encapsulates the irresistible natural magnetism that comes
when two evocative voices are drawn together. In a country tinged song which ruminates on loved ones left behind, Patty and Kelly trade verses from opposing perspectives. But as the song is elevated from sparse Americana into a richer, string-laden crescendo, both their lyrics and their harmonies show the strength that comes with a partnership that surpasses that of the individual. Patty says, "It was important to us to have both perspectives in that song," while Kelly adds, "'Let's Turn This Back Around' particularly lends itself to being a duet."

As with the rest of Far From Saints' upcoming debut album, 'Let's Turn This Back Around' was written and produced by the band, with mixing from the Grammy-nominated Al Clay (Blur, Pixies). 

Kelly, Patty and Dwight first experimented playing together when performing a cover version of Stevie Nicks and Tom Petty's 'Stop Draggin' My Heart Around' on Kelly Jones' solo UK tour in 2019 (Dwight and Patty were openers for Kelly each night). Very soon on that UK tour, the three found themselves jamming and co-writing songs in backstage hallways, dressing rooms, soundchecks and hotels. Each songwriter subconsciously merging their influences to nourish the alchemy between two formidable singers.
They booked recording sessions, one at the end of each leg of the tour and completed the entire album in just nine days. While it was created remarkably quickly, it also took years to be unveiled after the pandemic left them an ocean apart. Still captivatingly fresh, the album is now ready to be shared with the world – details to follow soon.

Tracklist:

1. Screaming Hallelujah
2. Faded Black Tattoo
3. Take It Through The Night
4. Let's Turn This Back Around
5. Gonna Find What's Killing Me
6. The Ride
7. We Won't Get Out Alive
8. No Fool Like An Old Fool
9. Let The Light Shine Over You
10. Own It