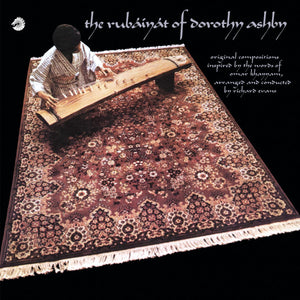 | | |
| --- | --- |
| Release Date | 12/05/2023 |
| Format | LP (Verve By Request Series) |
| Label | Verve |
| Catalogue Number | 4899071 |

Released on the Cadet label in 1970, this album's wondrous mix of spiritual and funky jazz and unique instrumentation defy categorization. Harpist Ashby adds the koto, a 13-stringed Japanese instrument to her arsenal, and her long-time arranger Richard Evans blends flutes, vibraphone, oboe, kalimba and Ashby's own vocals into a singular and soul-affirming set.

This Verve By Request title is pressed on 180-gram vinyl at Third Man in Detroit. 1970's 'The Rubáiyát Of Dorothy Ashby' was the ninth studio album from jazz harpist Dorothy Ashby, one of the most criminally underrated figures in American jazz history. Inspired by the works of Persian polymath Omar Khayyam and featuring arrangements by Chicago soul musician Richard Evans, this funky yet deeply spiritual set sees Ashby work primarily with the Japanese koto, underlining her incredible ability to synthesize different influences into her oeuvre.

Tracklist:
A1 Myself When Young 
A2 For Some We Loved
A3 Wax And Wane
A4 Drink 
A5 Wine
B1 Dust 
B2 Joyful Grass And Grape 
B3 Shadow Shapes 
B4 Heaven And Hell 
B5 The Moving Finger