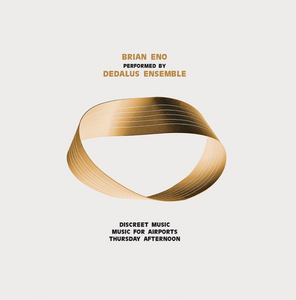 | | |
| --- | --- |
| Release Date | 14/07/2023 |
| Format | 2LP  |
| Label | Sub Rosa |
| Catalogue Number | SRV540 |

With 'Discreet Music' (1975), 'Music For Airports' (1978) and 'Thursday Afternoon' (1985), Brian Eno invented a new music genre, ambient music, which he defined as "able to accommodate many levels of listening attention without enforcing one in particular; it must be as ignorable as it is interesting."
These versions performed and arranged by Toulouse, France-based Dedalus Ensemble, according to the musicians and the critics who listened to it, goes beyond what we expect from it. A mental base that takes us far away. One of the only music without beginning or end in which we want to stay as long as possible.