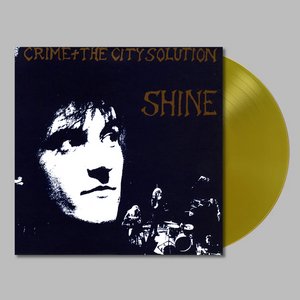 | | |
| --- | --- |
| Release Date | 24/02/2023 |
| Format | LP Gold Vinyl |
| Label | Mute |
| Catalogue Number | LSTUMM59 |

A band out of time, Crime & the City Solution were perennial outsiders who could not rest in their native Australia, and instead found inspiration in the colder climes of London and Berlin. Their mesmeric, expressive music evolved through many incarnations and a great deal of adversity. The first incarnation of the band appeared in 1977/78, in the midst of Australia's nascent punk scene and re-grouped in London in 1984 with Simon Bonney being joined by former Birthday Party stalwarts Mick Harvey and Rowland S.Howard, Rowland's bassist brother Harry and one time Swell Maps drummer Epic Soundtracks.

With the departure of Soundtracks and the Howard brothers for the formation of These Immortal Souls, Bonney, Harvey and Adams settled in Berlin. Here they called upon Thomas Stern, Bronwyn Adams, DAF's Chrislo Haas and Einstürzende Neubauten's guitarist Alexander Hacke to create Shine. The album was recorded at Hansa Tonstudio in the second half of 1987 and later released in 1988. Shine was more finely tuned, optimistic and delicately abrasive, with the reconstructed line-up admirably marrying Hacke's post-punk-into-blues guitar with Adam's feathered violin and Bonney's gruff vocals.

Tracklist:
1. All Must Be Love
2. Fray So Low
3. Angel
4. On Every Train (Grain Will Bear Grain)
5. Hunter
6. Steal To The Sea
7. Home Is Far from Here