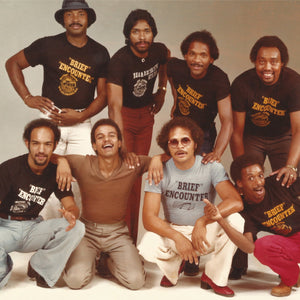 | | |
| --- | --- |
| Format | LP |
| Label | Athens Of The North |
| Catalogue Number | AOTNLP044 |

Brief Encounter, THE soul band from North Wilkesboro, N.C., formed the 1970's and recorded through the the 90s with various labels as well as self releasing. We have been working with band members Montie & Gary Bailey (who has actually visited me in Scotland) to bring you a few releases over the last few years, culminating in this final release alongside their rarest and unknown single when they were known as Sounds of Soul. Never a step wrong, not a bad track to be seen, one of America's finest 70s soul bands.

Tracklist
1. Where Will I Go
2. Get a Good Feeling
3. (Don't You See) I'm Crazy About You
4. What About Love
5. Human
6. Don't Let Them Tell You
7. In A Special Kind Of Way
8. I Want You So Much
9. I'm So Satisfied
10. We're Going To Make It
11. I'm So In Love With You
12. Total Satisfaction