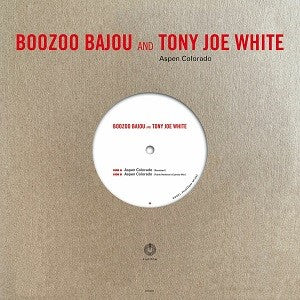 | | |
| --- | --- |
| Release Date | 02/07/2021 |
| Format | 10" Single |
| Label | Pilotton |
| Catalogue Number | PILOTTON1 |

The actual first link-up between the US country legend Tony Joe White and the Nuremberg based downbeat producer duo Boozoo Bajou happened in early 2003 when Warner Music US approached Boozoo Bajou with a free-pick to remix a track from their huge back catalogue. They immediately went for the iconic Tony Joe White classic "Rainy Night in Georgia" and gave this long-time favourite their remix treatment. The personal positive feedback from Tony Joe White himself for that remix was overwhelming and everybody was set to continue.

Up next was a warm 2004 summer night in Hamburg, Germany with the actual location being the backstage area of the Fabrik Club. Tony Joe White just left the stage after performing a breathtaking set looking back at his longlasting career which started in the late sixties. After speaking on the phone various times and exchanging ideas by email during the months before this is the first ever meeting in person. For the next few entertaining hours they enjoyed a few beers and the plan to work together was nailed down with all involved people having a smile on their faces when they left. With "Keep Going" the first outcome of their collaboration was going to see the light of day on the Boozoo Bajou album "Dust My Broom" released in 2005 on !K7. Afterwards it took a 16 years long break before the second part of their joint recordings is going to appear on a limited edition 10inch Vinyl in July 2021. Originally recorded back in 2005 it is a re-lick of Tony Joe White's wonderful 1969 tune "Aspen Colorado" which was newly sung with additional blues harp and guitar by the man himself on a soulful laidback Boozoo Bajou beat. After the tragic death of Tony Joe White in October 2018 it was rather vague if this was going to happen but with the grateful help of his son Jody Boozoo Bajou can finally present this musical gem to the public.

TRACKLISTING:
A1. Boozoo Bajou & Tony Joe White - Aspen Colorado Revisited
B1. Boozoo Bajou & Tony Joe White - Aspen Colorado (Frank Mollena's Cosmic Mix)