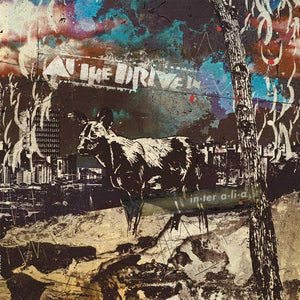 | | |
| --- | --- |
| Release Date | |
| Format | LP Colour |
| Label | Rise |
| Catalogue Number | 4050538274158 |

Many of us spent the entire duration of The Mars Volta's run praying that Cedric Bixler-Zavala and Omar Rodriguez-Lopez would just put down the peyote and come back to punk, as At The Drive-In called it quits just as the head-splitting ferocity of 2000's Relationship Of Command positioned the crew to be one of the most promising and original post-hardcore acts of all time. Now, years after completely giving up on the possibility of ever hearing new ATDI music, the gang is back together with a brand new full-length. In-ter a-li-a, Latin for "among other things" (Bixler-Zavala has been pilfering Latin textbooks for his obscure lyrics for years now) picks up right where Relationship Of Command left off (Rodriguez-Lopez: "obviously it's going to be weird. It's like getting back with your ex-wife, only in this case there are four ex-wives!"). Bixler-Zavala does his very best to channel the hoarse yelling vocal style of earlier ATDI records, but no amount of Coachella money can reverse the decade and a half of psychedelics and prog noodling with TMV that turned him into an aspiring Geddy Lee. Still, moments of "Incurably Innocent", "Continuum" and "Tilting At The Univendor" hint at what a follow up to Relationship Of Command may have sounded like if the group didn't splinter and regroup as The Mars Volta and Sparta. Omar's guitar playing is flawless as always, further proving he can literally do this shit in his sleep. Noticeably absent are the neutralizing backing vocals of founding member Jim Ward, who was present for the initial reunion in 2012 but was not a part of these recording sessions.

Tracklist
No Wolf Like the Present
Continuum
Tilting at the Univendor
Governed by Contagions
Pendulum in a Peasant Dress
Incurably Innocent
Call Broken Arrow
Holtzclaw
Torrentially Cutshaw
Ghost-Tape No. 9
Hostage Stamps