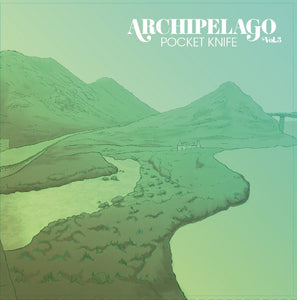 | | |
| --- | --- |
| Release Date | |
| Format | LP Eco Vinyl |
| Label | Olive Grove |
| Catalogue Number | OGR0036 |

We'd like to introduce you to the Archipelago EPs. ​
​
Our archipelago is formed not of islands, but of three sumptuous slices of vinyl featuring six very exciting artists. Each split 12" EP is outstanding in its own right, but collected together they form a quite remarkable document. A sublime collection of artists right at the start of their recording career, filled with desire, ideas, and energy, and artists experienced in their craft, finding new ways to create and producing something different and quite beautiful. ​Eye-pleasing artwork by Kris Ferguson adorns all three records and will form a stunning and surprising vista when sat alongside each other in the correct sequence.

Each artist occupies their own side of vinyl, neighbours to their labelmates only a flip of a record away. ​

Tracklist

A1 Pocket Knife– No Benefits
A2 Pocket Knife– Custard Cream
A3 Pocket Knife– Kick You In The Face
A4 Pocket Knife– Manger Constructeur
A5 Pocket Knife– Last Piece Of Pie
B1 Moonsoup– Unsustainable
B2 Moonsoup– Funny Little Thing
B3 Moonsoup– Soup Soup Soup
B4 Moonsoup– Indecisive Slut-bitch
B5 Moonsoup– I Don't Like Rocket Unless It's In Small Portions