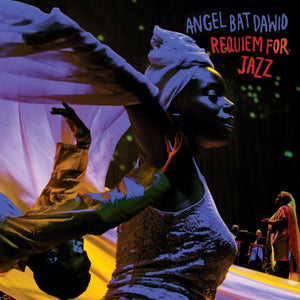 Release Date
24/03/2023
Format
2LP Very Limited Purple Vinyl/
2LP/ CD
Label
International Anthems Recording Co.
Catalogue Number
IMRC61LPI/
IMRC61LP/
IMRC61CD


Requiem for Jazz is a 12-movement suite composed and arranged by Angel Bat Dawid, inspired in part by dialogue from Edward O. Bland's 1959 film "The Cry of Jazz."

The original form of the music was premiered at the 2019 edition of the Hyde Park Jazz Festival in Chicago, where Angel conducted a multigenerational fifteen-piece instrumental ensemble (all Black musicians from Chicago's creative music community) alongside a four- person choir (featuring singers from Black Monument Ensemble), dancers, and visual artists in performance.

Angel mixed and post-produced recordings from the performance – adding interludes, vocals and additional sounds, as well as transcribing a piece from "The Cry of Jazz" film. The final movement of Requiem for Jazz features Marshall Allen and Knoel Scott of the Sun Ra Arkestra. Their contributions were recorded remotely at the historic Arkestral Institute of Sun Ra in Philadelphia in late 2020.

The final Requiem for Jazz work in album form is an immersive 24-track, double LP experience. The physical package is a deluxe, heavyweight gatefold jacket with liner notes by South African writer Nombuso Mathibela, artwork by Damon Locks, and a large fold out poster designed by Jeremiah Chiu, featuring poetry written by Angel Bat Dawid in dedication to all of her collaborators on the project. Additionally, there is a limited Thy Kingdom Come purple color vinyl edition of Requiem for Jazz available for the first pressing only.

Tracklist

1. Jazz is merely the Negroes cry of Joy & Suffering
2. INTROIT- Joy n' Suff'rin
3. Jazz is the musical expression of the triumph of the Negroes Spirit
4. KYRIE ELEISON- Lawd Hav' Merci
5. This endless repetition is like a Chain around the Spirit. And is a reflection of the denial of a future to the Negro in the American way of life
6. DIAS IRE- Chain Around the Spirit
7. Another restraining factor in Jazz are the changes
8. TUBA MIRUM- The Changes
9. The Negro experiences the endless daily humiliation of American life which bequeaths him a Futureless Future
10. REX TREMENDAE –Futureless Future
11. The Negro transforms America's image of him into a transport of Joy!
12. RECORDARE-Recall the Joy
13. Jazz reflects the improvised life thrust upon the Negro
14. CONFUTATIS-Repression
15. Through Spirituals, through the Blues, then through Jazz we made a memory of our past and a promise of all to come
16. LACRIMOSA- Weeping our Lady of Sorrow
17. Because Jazz is the one element in American life where whites must be humble to the Negro
18. OFFERTURIUM-HOSTIAS-Humility
19. Only when whites have paid the price in suffering to be the Negroes equal
20. SANCTUS- Holy, Holy, Holy
21. The Jazz body is dead but the Spirit of Jazz is Alive
22. AGNUS DEI-Jazz is Dead!
23. LUX AETERNA-Eternal Light (Angel Bat Dawid) -The Cry of Jazz (Sun Ra)
24. Long Tone for Rayna Golding (A Binti Zawadi our Future)