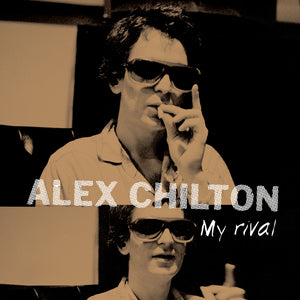 | | |
| --- | --- |
| Release Date | 27/10/2023 |
| Format | 12" Black EP |
| Label | Omnivore Recordings |
| Catalogue Number | 0810075113396 |

It's mid- to late-1975, what remained of Big Star is no longer, Third/Sister Lovers was sitting on a shelf and Alex Chilton was in Memphis at a very low point. Chris Bell spent a large part of the year in London trying to get a solo record deal, but turned up empty and flew home to visit family in late summer. While at home, Bell was cutting more solo tracks at Ardent, one of which, "You And Your Sister" needed a harmony vocal, so he called in Alex.

Fans have long thought that was the last recording of Bell and Chilton collaborating in the studio, but within what was probably a few days of that session, they were in the studio together again, with Bell engineering a set of demos for Alex.

Chilton laid down early takes of "My Rival" (later re-cut for the Like Flies On Sherbert album) and "All Of The Time" (later re-cut for the Singer Not The Song EP and Bach's Bottom album) as well as the then unissued tracks, "She Might Look My Way" (which first appeared on co-writer Tommy Hoehn's 1978 album, Losing You To Sleep) and "Windows Hotel" (which finally saw release in 2015 on the live album, Ocean Club '77). Unfortunately, working together was not in the cards, nor was a Big Star reunion of any sort.

From the liner notes by Rich Tupica:
"If Big Star could overcome some personal difficulties, if we could get it together, I know we could do something very well," an optimistic Chris Bell told journalist Barry Ballard in 1975.

"I don't know if (Chris) wanted to work together again or not," Chilton reflected years later with journalist Russell Hall. "I don't remember that being the case. I mean, musicians get together to do things all the time, on all sorts of bases. I personally had no intentions of ever getting back together in a band with anybody again, pretty much."

All that's left is the music, and that's surely something to celebrate. In some alternate universe, this could've been the next chapter for Big Star, and it sounds beautiful.

Tracklist

MY RIVAL
ALL OF THE TIME
WINDOWS HOTEL
SHE MIGHT LOOK MY WAY (Take 1)
SHE MIGHT LOOK MY WAY (Take 2)