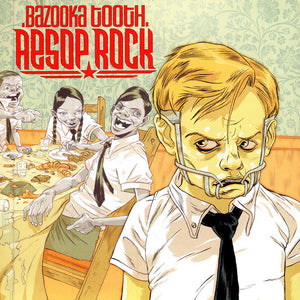 | | |
| --- | --- |
| Release Date: | 10/03/2023 |
| Format: | 2LP |
| Label: | RHYMESAYERS |
| Catalogue Number: | RSE353LP |
Originally released in 2003, Bazooka Tooth was the fourth studio album by Aesop Rock. His first full-length recording following the lauded Labor Days album, Bazooka Tooth debuted at #112 on Billboard's Top 200 chart and #44 on their Hip-Hop and R&B charts. On Bazooka Tooth, Aesop's dizzying delivery and oscillating growl paired well with the produc- tion, delivering more apocalyptic angst and future-funk flavor than its predecessors. Buried within these sawtooth grooves, listeners have discovered a plethora of Aesop's keen observations on the state of the industry, the state of the world and the state of humanity.
Tracklist:
1 Bazooka Tooth
2 N.Y. Electric / Hunter Interlude
3 Easy
4 No Jumper Cables
5 Limelighters / Flunkadelic Interlude (feat. Camp Lo) 06 : Super Fluke
7 Cook It Up (feat. Party Fun Action Committee)
8 Freeze / Honeycomb Interlude
9 We're Famous (feat. El-P)
10 Babies With Guns
11 The Greatest Pac-Man Victory In History
12 Frijoles
13 11:35 / Ketamine U.S.A. Interlude (feat. Mr. Lif)
14 Kill the Messenger
15 Mars Attacks