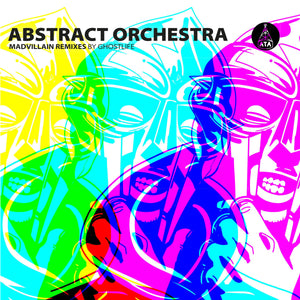 | | |
| --- | --- |
| Format | LP |
| Label | ATA |
| Catalogue Number | ATA029 |

Trying to put the enigmatic producer Ghostlife into words is no easy feat, for a start very few people have ever met him. Many people will, of course, fill your head with tall Ghostlife tales; what hat he favours on a Wednesday, his love of the Dewey Decimal system, his aversion to large peas.

Time to call bullshit on all these theories. Best way to describe Ghostlife is Kyser Soze with a keyboard, minus all the criminal bits, an anonymous tactician with an ear for a woozy beat. He may indeed have been the source of the above tall tales, writer of his own fiction if you will.

It is perhaps then fitting that he should be pulled towards another artist who spent much of his career sowing the seeds of doubt in regard to his own identity, the much-lamented MF Doom. Respected rapper Doom not only hid his face from the public but was also well known for releasing music under a raft of different monikers adding further mystery to a canon of work that had reached a legendary status before his untimely death in 2020, and after.

In this instance it is Doom's collaborations with Madlib, resulting in the 2004 ground-breaking album Madvillainy, that got Ghostlife's remix reflex twitching.

He decided to further ramp up the subterfuge (this is dream within a dream stuff) and remix some choice cuts from Abstract Orchestra's interpretation of the record.

For those who don't know, Abstract Orchestra, led by saxophonist Rob Mitchell, are based on the classic jazz big band instrumentation of saxes, trumpets and trombones and features the cream of the north's jazz scene.

When you dig into Madvillainy you will note many of the samples (Sun Ra, Bill Evans, Freddie Hubbard amongst others) lent a jazz oriented feel to the record, an ethos that, in turn, lent itself perfectly to the deconstruction and re-imagining by Abstract.

Ghostlife wanted peel back the next layer of this onion and, inspired by Kaytranada's organic synthesis of the hip hop aesthetic among slightly higher BPMs, Ghostlife began to pick tracks from Abstract's Madvillain 1 and 2 to play around with.

This was all done above board of course. He made contact with Rob who was so intrigued by what Ghostlife sketched out that handed over the original stems with his blessing. This meet was around mid 2020 and Rob admitted he had forgotten all about it until his inbox started pinging in the summer of 2022.

All in all Ghostlife remixed 10 tracks, including "Raid", "Fancy Clown", "Curls", and "Figaro", and has forgone the big arrangements. Rather he has coaxed out hooks, and sampled small sections, dipping into Abstract Orchestra's work with the steady precision of a watchmaker to create something new and exciting.

Tracklist
1. Raid (Ghostlife Remix) 
2. Fancy Clown (Ghostlife Remix) 
3. Eye (Ghostlife Remix) 
4. Accordion (Ghostlife Remix) 
5. Curls (Ghostlife Remix) 
6. Bistro (Ghostlife Remix) 
7. Borrowed Time (Ghostlife Remix) 
8. Fire In The Hole (Ghostlife Remix) 
9. Figaro (Ghostlife Remix) 
10. Fluid (Ghostlife Remix)