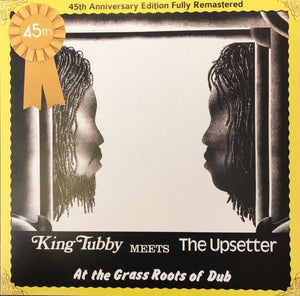 | | |
| --- | --- |
| Format: | LP |
| Label: | Studio 16 |
| Catalogue Number: | STU16LP001R |
Seminal dub album produced by Winston Edwards. In 1974 Edwards left Jamaica to reside in the UK and through his strong connections with such reggae luminaries as Joe Gibbs, Lee Perry and King Tubby began to travel back and forth between London and Kingston (JA) to bring back recordings to issue on his Fay Music label here in the UK. In 1974 he released this seminal dub set. Contrary to the genius marketing device of pitching side one as the work of King Tubby at the mixing desk against side two, purporting to be mixed by Lee Perry at the Black Ark, the whole album appears in fact to have been mixed at Tubby's, while the rhythms were possibly built at Perry's Ark and maybe Gibbs' studio, but at this length memories are stretched. It is in any case a classic early Tubby's dub album, musical, tuneful, heavy dubwise with Vin Gordon's unique trombone lines well to the fore. Essential dub. This pressing is issued to celebrate the album's 45th Anniversary and has been fully remastered, the cover decorated with a golden rosette to that effect.
Tracklist:
Side 1:
1. Blood Of Africa
2. African Roots
3. Rain Roots
4. Wood Roots
5. Luke Lane Rock

Side 2:
6. People From The Grass Roots
7. Crime Wave
8. No Justice For The Poor
9. 300 Years At The Grass Roots
10. King Tubby & The Upsetters At Spanish Town