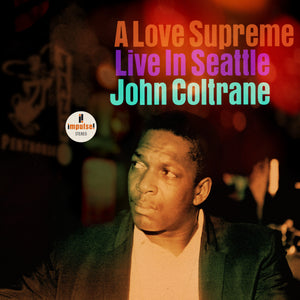 | | |
| --- | --- |
| Release Date: | 22/10/2021 |
| Format: | 2LP |
| Label: | Impulse |
| Catalogue Number: | 3849998 |

'Coltrane performed 'A Love Supreme' just twice in public - in Paris and Seattle. A recording of the Seattle performance was never known to exist until now. Recorded by Coltrane's friend, noted Seattle musician Joe Brazil on October 2, 1965 at the Penthouse Club in Seattle, this recording transports the listener to a prime seat for a piece of musical history. This newly discovered live recording of the most iconic suite in jazz is a revelation of historical significance. A major selling point of this release will be its looser, deeper improvisational approach, with each track taken out to a greater extent than what is on the recorded version of A Love Supreme.

You may well have heard John Coltrane's 'A Love Supreme' classic but you have probably never heard it recorded live in concert in Seattle in 1965.  It is one of only three known performances of the suite on which Coltrane was joined by a crack band which included Pharoah Sanders on second sax. This is a vinylization of a never before heard recording from a private collection.  

Tracklist:
Side A
1. A Love Supreme Pt. I – Acknowledgement
 
Side B
1. Interlude 1
2. A Love Supreme Pt. II – Resolution
3. Interlude 2
 
Side C
1. A Love Supreme Pt. III – Pursuance
 
Side D

1. Interlude 3
2. Interlude 4
3. A Love Supreme Pt. IV - Psalm