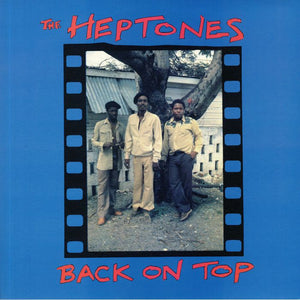 | | |
| --- | --- |
| Format: | LP |
| Label: | Burning Sounds |
| Catalogue Number: | BSRLP900 |

You can't overestimate the importance of The Heptones in the evolution of Jamaican music, after they defined the transition from ska to rocksteady and on to reggae. This album, "Back On Top", captures the band in the early '80s, when they had reached an international audience after working with Lee 'Scratch' Perry and releasing on Island Records. By this point they were back producing themselves, creating a perfect spanning sweet ballads and upbeat skankers, not to mention a cover of The Beatles' "Yesterday". Lovingly repressed on 180 gram red vinyl, this is a welcome reissue of an album that's been tricky to get hold of for some time, from one of the all time great reggae acts.

Tracklist:
Side 1
1. "Place Called Love" (3:05)
2. "Suddenly" (3:09)
3. "Only Sixteen" (4:07)
4. "Pretty Little Cottage" (4:07)
5. "Yesterday" (3:17)
Side 2
1. "Sea Of Love" (3:00)
2. "Love Won't Come Easy" (4:22)
3. "Take Me Darling" (2:43)
4. "Love Story" (3:07)
5. "I Got The Needle" (2:36)