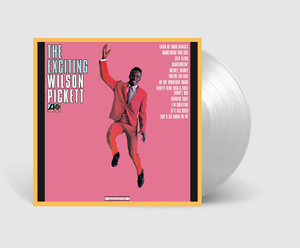 | | |
| --- | --- |
| Release Date | 03/02/2023 |
| Format | LP Clear Vinyl |
| Label | Atlantic |
| Catalogue Number | 603497837526 |
The Exciting Wilson Pickett is the third album by R&B and soul singer Wilson Pickett. The album includes some of his most recognizable hits, but the whole album is of nearly an equal level. His covers of R&B standards like Something You Got and Mercy Mercy are outstanding and gives you an idea of Pickett's great vocal abilities. It's an energetic and highly listenable record with the classic rhythm section of Cropper, Dunn and Jackson Jr. Isaac Hayes is adding his part by playing the piano. Land of 1000 Dances and 634-5789 (Soulsville, U.S.A.) are some of his most famous songs which can be found on this album, but also a classic like In the Midnight Hour. The album as a whole can be seen as one of the best '60s soul albums. Wilson Pickett is a major figure in the development of American soul music and recorded over 50 charting songs. He passed away in 2004, but will always be recognized as an important person in the soul scene.
Tracklist

Land Of 1000 Dances 
Something You Got 
634-5789 
Barefootin' 
Mercy, Mercy, Mercy 
You're So Fine 
In The Midnight Hour 
Ninety-Nine And A Half (Won't Do) 
Danger Zone 
I'm Drifting
It's All Over 
She's So Good To Me