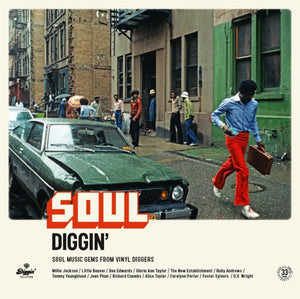 | | |
| --- | --- |
| Release Date | 13/01/2023 |
| Format | LP |
| Label | Wagram |
| Catalogue Number | 3419776 |
 
Some are looking for gold or oil and others are passionately looking for forgotten music treasures! Those who can be described as 'sound gold diggers' criss cross record shops or confidential places to unearth musical nuggets previously kept in the dark. This practice began with sampling in the 80s and has now become a way of safeguarding the world's musical heritage. With our 'Diggin' Collection', we invite you to discover soul, funk or disco gems from the 70s and the 80s available on three nice vinyls for your pleasure.

Tracklist:
1 I Cry - Millie Jackson
2 How Can You Say It - Gloria Ann Taylor
3 Ridin' High - The New Establishment
4 Casanova 70 - Ruby Andrews
5 Tobacco Road - Tommy Youngblood
6 A Fool Can't See the Light - O.V. Wright
7 (I Can) Deal With That - Dee Edwards
8 Here I Go Again - Jean Plum
9 Tammie - Richard Coombs
10 Misdemeanor - Foster Sylvers
11 Sounds Ridiculous - Alice Taylor
12 Away With You - Carolynn Porter
13 I Love the Way You Love - Little Beaver